5 Ways to Improve Your Speaking Voice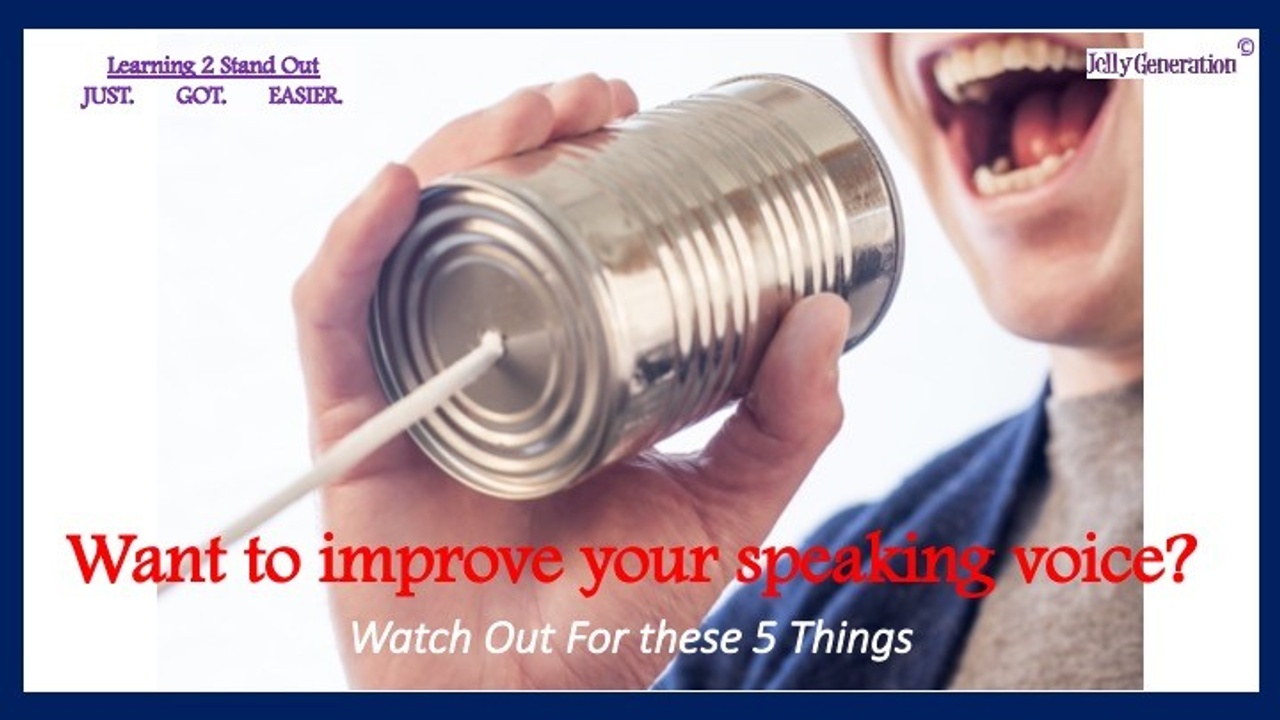 👇

Podcast:

👇
#119

You play a very important musical instrument daily. Your voice. You use it for the significant and the mundane. The more effectively you use your voice, the more people will listen.
Why don't we pay more attention to the very thing we rely on for well . . . everything?
Recently, I had the wonderful opportunity to see a Stradivarious Violin. To be specific, it was "The Gould" violin created in 1693. (located in the Metropolitan Museum, New York City)
The musical instruments created by the Italian family Stradivari are among the most famous and expensive in existence world wide.
What would happen if I were to play this violin? I'd be kicked out of the building. I'd get voted off the island post haste.
But what if I had practiced and trained to play it? What if I understood what amazing music could be heard when the musician knew how to get the most amazing sounds by playing it correctly?
And our own personal "stradivarious" voice? We can improve it, reach more people, be more effective, and have more people listen. But most don't think about it as they should.
This quick 9-minute podcast is designed to help you play your speaking voice with much more accuracy and precision and yes, effectiveness.
A quick overview you'll learn:
5 questions/techniques you can use to up your voice-game

typical mistakes most people make when talking

2 techniques to help your young adult improve now

1 fun bonus tip that'll get you singing with joy

get people to actively listen instead of tuning out
You can move your speaking techniques from "noise" to "broadway". These 5 points can help you analyze and get started. We all have many connection and networking tools at our disposal. Recognizing is the way to get started.
JellyGeneration
You CAN Have Success in the Middle of it ALL
REQUEST FROM THIS PODCAST . . .
Did this episode have a point that especially stood out? Pam would love to hear. You can reach her at [email protected]
PS: Like This? Help us stay blog/podcast AD-FREE
If you found this helpful, would you mind hitting the "like" button by heading to apple podcasts and giving this podcast "Parenting Your Nearly Grown JUST. GOT. EASIER a 5-star rating? We aim to keep our educational content (videos, blogs, podcasts) ad-free and those "likes and stars" help. Occasionally we offer educational courses over and above our parent development information offered freely and as regularly as possible. Commercials with distracting material can occur, so our goal is to self-fund and stay ad-free. Thank you so much for your support.
About JellyGeneration
Pam Hardison, MBA, BBA in Finance and Business Education, has created and co-owned a national mail order catalog which at one point was the 21st fastest growing customer base in the nation. As a mom of two post college daughters, she considers it a privilege and to meet other students and parents along the same road. After teaching high school and college students for years, her commitment to helping them with topics most schools can't cover is the light that drives her.
Holly Powers, Attorney-At-Law (Jameson & Powers, P.C.) has been actively practicing law since 1985 and is a shareholder with the law firm of Jameson & Powers, P.C. The firm specializes in transactional law, health care law, and general business law. Holly has taught students precepts concerning the legal world for over 10 years. With 4 children, she understands what teens need to know and has a passion to help others faced with teens and aging parents.
Stay connected with educational updates!
Join us and other parents just like you, ready to learn all the latest in reaching their young adult with vital information to help them launch as successfully as possible.
Don't worry, your information will not be shared.
Count Me In